# Shitpunks: an Introduction
ShitPunks is the pioneer collection of the Binance Smart Chain and the project that changed the tone of the NFT PFP space as the first collection to provide their community with rewards. Hand-drawn and iconic, ShitPunks is a celebration of the NFT and cryptocurrency space as a whole and continuing to lead the space with development and innovation.
# PixelSweeper Community Vote
Shitpunks have been nominated by the PixelSweeper community for the chance to have their floor swept (opens new window) from the mint and trading revenue of PixelSweeper.
The vote opens on Jun 6, and the three winning collections will have a total of $50,000 in BNB spent sweeping their floor.
In order to vote you need to have your PixelSweeper NFTs staked at pixelsweeper.com (opens new window)
# Shitpunks Inspiration
ShitPunks is inspired by the inaugural Cryptopunk collection that laid the foundation for NFTs as PFP collections. As Cryptopunks used pixelated art to symbolically represent the early timeperiod in NFT history, ShitPunks chose a hand-drawn art style to represent the next wave of development in the space as a celebration of the emergence of shitcoins and the expansion of the NFT space. The ShitPunks collection fully recreates the Cryptopunks collection with unique, hand-drawn view of all the original attributes.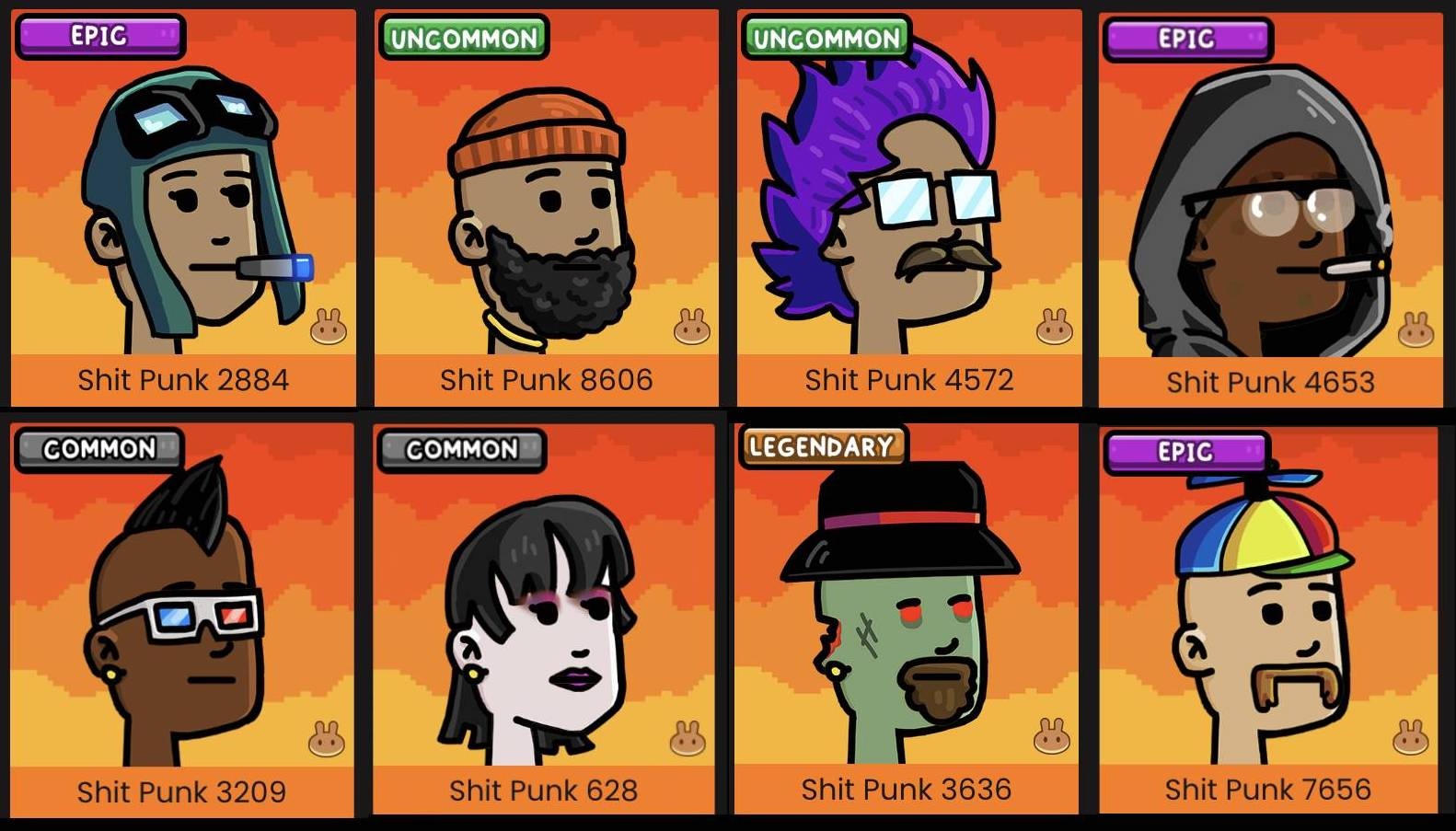 # Utility
In addition to the original utility as a PFP collection, owning a ShitPunk is your passport to gain entry to the ShitPunks DAO, which receives 5% of all market sales are donated to provide support for exclusive content, events and all the community's goals!
Holders also have the opportunity to join the ShitPunks Diamond Hands program, which enters hodlers in a monthly airdrop lottery. In addition, ShitPunks has announced the upcoming release of their game which will allow holders to play as their punk in a metaverse world-style game.
# Rarity and Ranking
Each of the 87 attributes of the ShitPunks collection have a rarity percentage, which provides a variety of metrics by which ShitPunks rarity can be determined. In addition, ShitPunks holders also take into consideration the sale price and popularity of a ShitPunk's matching Cryptopunk, as well as their custom rarity classification of Common through Legendary status.
# Why Build on BNB Chain?
They saw the potential of BNB Chain as a great candidate for NFT collections where investors could be relieved of high gas fees and on a strong, quality blockchain. Building out the BNB Chain ecosystem with NFTs just made sense to us.
The investors here are some of the most enthusiastic people involved in the more community-focused and fun elements of blockchain technology, those with an interest in shitcoins (the term used for coins without elements of core functionality to blockchain technology such as meme coins, gaming tokens, and other projects that are passionately developing the side of the space that bridges the gap between code and society).
# Useful Links
# Official Website
shitpunks.com/ (opens new window)
# Twitter
twitter.com/shit_punks (opens new window)
# Telegram
t.me/ShitPunksOfficial (opens new window)
# Marketplace