Rareboard (opens new window) has been awarded an Ecosystem Grant by BNB Chain to support its product development to become a core NFT aggregator on BNB Chain, while additionally leaving room for supporting key strategic hires.
It's been an in-depth process ever since we were invited to make an application by members of the BNB Chain (opens new window) infrastructure team a few months ago.
The grant allows us to focus on some of the non-revenue generating features we have been hoping to build for the space. It means we can ramp-up our analytics offerings and help everyone get a better picture of the BNB Chain ecosystem.
The grant also means we are able to expand the team, and we are happy to announce that Blub and a14 have joined us as of this week.
# The Problems Rareboard Solves
The problems for the BNB Chain NFT ecosystem are quite clear:
A lack of accurate BNB Chain NFT data, in particular trending collections with volume, floor price, recent sales and social media metrics
No robust drop calendar that can be relied upon to include all of the upcoming mints in our space
A fragmentation of marketplaces, meaning that a collector needs to know about, and trust multiple platforms in order to succeed - this includes the user experience gap between NFT Dexes and the centralised BinanceNFT platform, as well as the separation of Metaverse, GameFi and Collectibles.
By visiting Rareboard (opens new window), collectors, analysts and data journalists can get a comprehensive picture of the BNB Chain NFT ecosystem.
By providing this level of tooling we're on the path to elevating the reputation and value of BNB Chain NFTs. This should all help bring in new collectors to the space.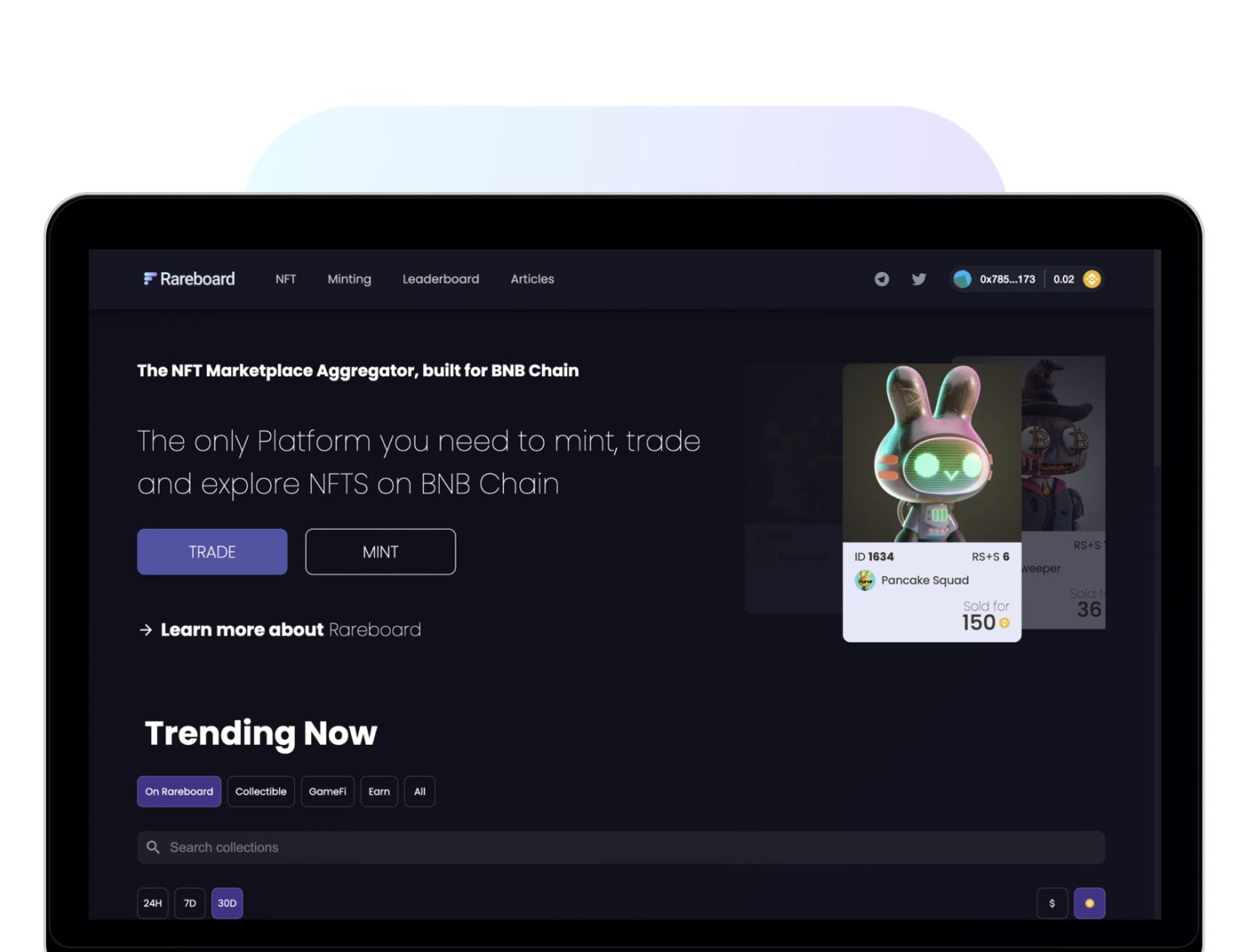 # The Features Rareboard has Committed to
As part of the grant application there were specific features that the BNB Chain infrastructure team identified as being crucial to the ongoing success of BNB Chain NFTs.
Rareboard has committed to developing these features before the end of Q3 2022, in order to secure a portion of the grant.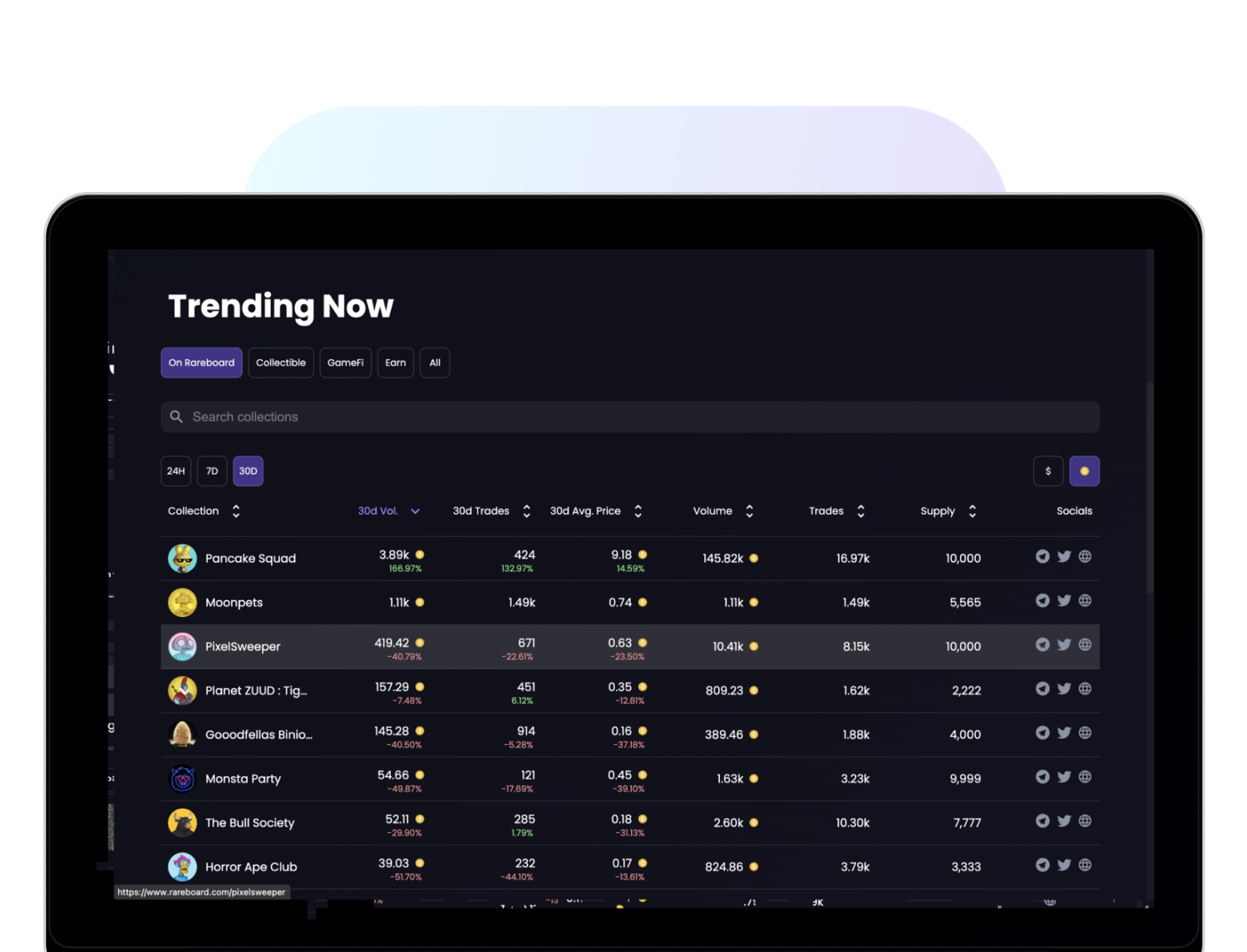 # Trending Collections - Already Live
- Users can see trending collections based on 1D/7D/All-time volumes, with information including floor price, average price, sales, number of supply and number of owners
# BNB Chain NFT Drop Calendar
- Users can see a reliable drop calendar for upcoming NFT mints on BNB Chain, and click through to learn more about the project including date, price, socials etc.
- This will be a self-serve feature for projects, with Rareboard simply having to greenlight the project to show on the calendar after the information is submitted
# Sales and Price Data
- Users can see price or sales volume trends over time on a chart. This will help traders understand the trading volume levels and assess if they should buy, hold or sell
# Bids and Listing 2.0
- Users can place bids on items directly on rareboard.com. These bids will be show in the Rareboard interface and on their partner platforms too
- Introduce the ability to list your item directly via the Rareboard platform, and our partner marketplaces will show these buying opportunities in their marketplaces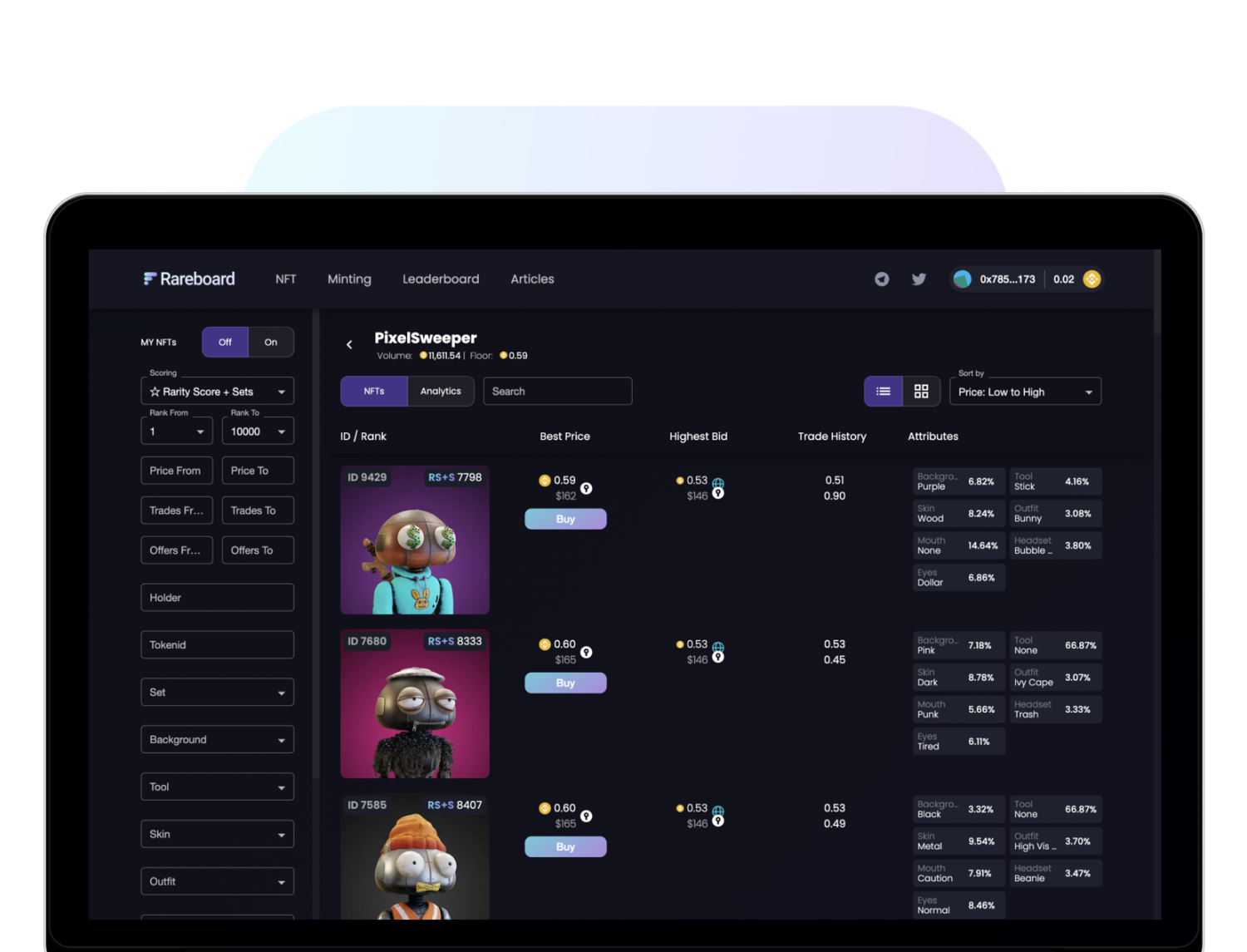 # Rareboard Roadmap
Alongside the features that the Rareboard team has committed to as part of the grant application there are additional product updates scheduled for the Rareboard Roadmap.
You can look forward to Rareboard introducing the following features in the near future:
# My NFT Page
- You will be able to see all the NFTs you own, for Rareboard listed collections, in your own My NFT Page on rareboard.com This will enable you to accept bids, list items and edit your listings all in one place - without having to hop between collection pages to find your NFTs.
# Sweep on Rareboard
- We will introduce a feature that allows you to sweep multiple NFTs at the same time. You will be able to sweep the floor of a certain collection up to the amount of BNB you wish to spend. We will also introduce a "shopping cart" system allowing you to add multiple NFTs across multiple collections to your cart, before executing your trade. This will save you time and gas fees.
# Intelligent Bids
- Rareboard users will be able to place bids for NFTs via Rareboard based on certain criteria that they set. For example, you will be able to bid on PixelSweeper NFTs with a minimum Ranking Weight vs the BNB you offer. This should make collections even more liquid, and is a big step forward from the traditional Global Bid system.
# New Team Members
The BNB Chain Ecosystem Grant has enabled us to expand our team to include two new members. We're really happy to share that both Blub and a14 have agreed to work for Rareboard from now on.
Blub and a14 have been supporting the BNB Chain ecosystem for several months with the NFTGranny platform (opens new window) and the a14 Telegram Sales and Mint Bots. By joining Rareboard, we can benefit from their skill-sets and their enthusiastic energy, and they can share in the success of our platform.
# Onboarding Granny
NFTGranny is a BNB Chain NFT Analytics platform built by Blub (opens new window). It's already popular with serious collectors on BNB Chain, and by integrating its features into the Analytics section of Rareboard we will be able to bring Granny's insights to a wider audience.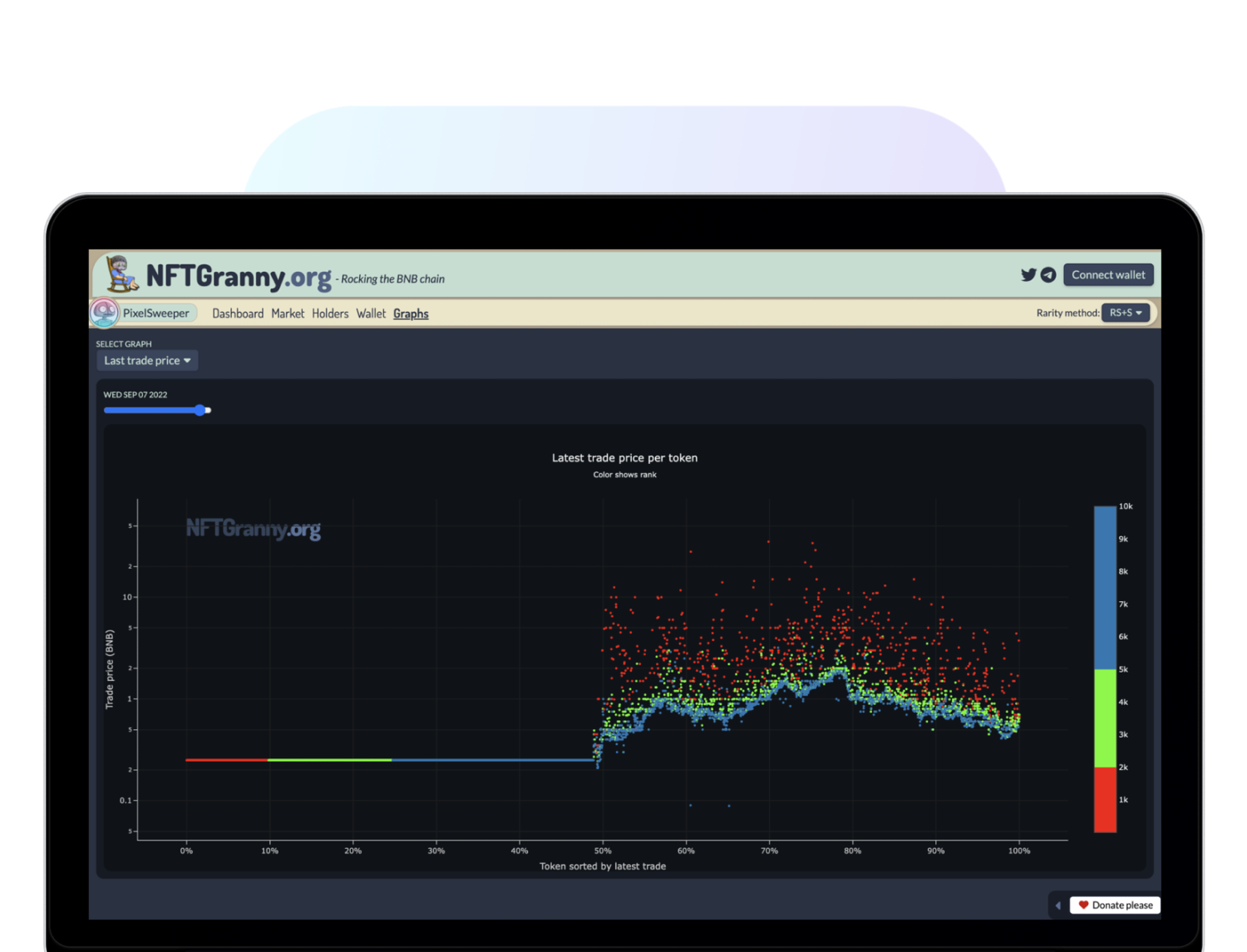 With Granny you can already access:
1. Graphs:
Floor Resistance
Trait Price Analysis
Trade Graphs
Listings Analysis
2. Wallet Analysis:
Individual Collectors can review their profitability per collection, or the profitability of individual Whales etc.
3. Holders Analysis:
Status (Diamond Hands vs Paperhands)
Profitability Ranking
Holder Ranking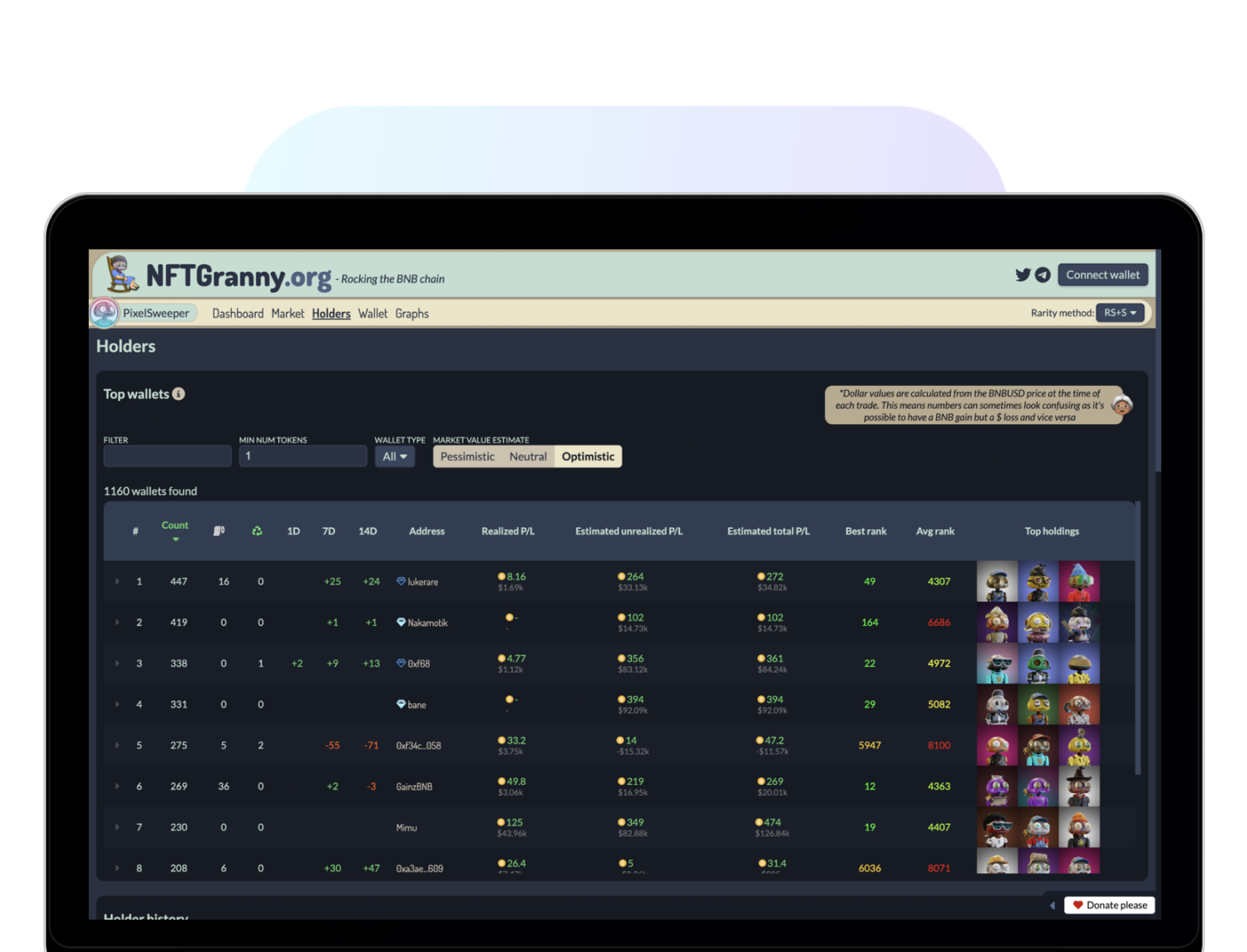 Now that Blub is part of the Rareboard team, it also means that we can fund his work and projects can be on-boarded for analysis more quickly.
This is only the beginning for NFT Analytics on Rareboard, we will continue to find new and interesting ways for you to analyse the collections, marketplaces and holders - all in an effort to help you be more successful with your NFT collecting and trading.
# Onboarding a14's Bots
a14 (opens new window) has written Telegram Sales and Mint Bots (opens new window) for more than 50 projects on BNB Chain.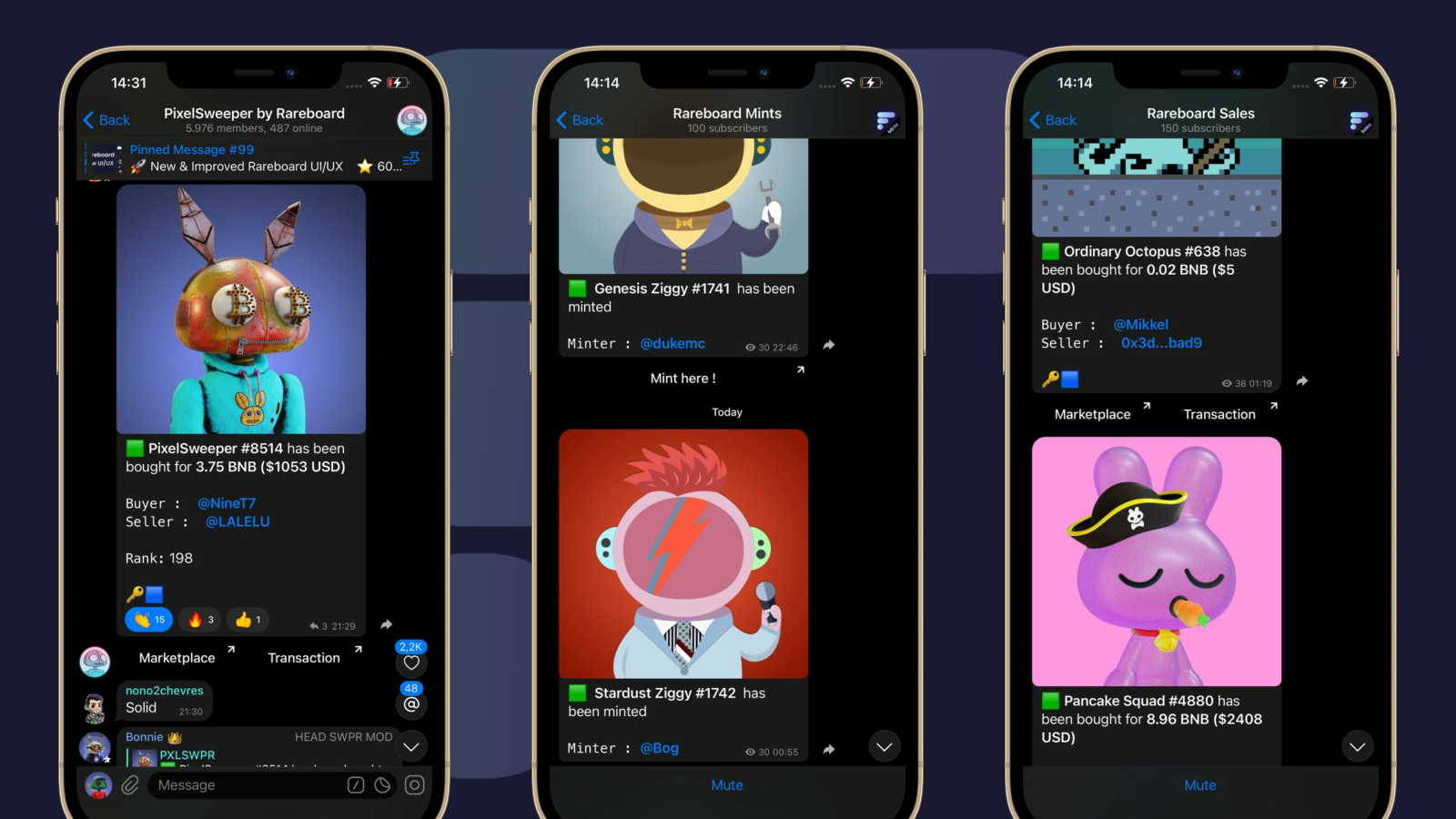 Projects are able to automate notifications into their Telegram channels so that their communities can keep up with all of the trading happening in their collection.
He's also added features to help track listings and bids across multiple projects.
By having a14 as part of the Rareboard team, we will be able to serve more projects and we will be able to integrate Rareboard's back-end indexing to serve the bot development itself.
# Rareboard's Future
We are one month away from Rareboard's first year anniversary. The platform was launched to help people analyse the rarity of the PancakeSquad collection that went live in October 2021.
We've grown into an NFT Marketplace Aggregator that indexes more than 600 collections on BNB Chain. This has led to the interest and support from Binance that we see today, and has allowed to us to build a strong foundation for another year of growth.
With this in mind, we are currently raising funds from private investors and Venture Capital firms. The Binance MVB Accelerator (opens new window) has offered us a lot of guidance in terms of tokenomics and fundraising, and has led to introductions and inbound interest from some large funds and organisations.
Our current goal is to use private investment to fund the growth of Rareboard, so that when we issue a token we don't need to rely on a public sale. Instead, Rareboard users and PixelSweeper (opens new window) holders will be generously rewarded with token airdrops for their commitment to Rareboard.
More details will follow on this topic later this year.