# How to List your NFT Collection on Rareboard
Rareboard (opens new window) launched in October 2021, with one collection: Pancake Squad (opens new window). Since then we have had over $15M of volume from people buying and minting on the platform. We recently added the ability for users to list their NFTs directly on Rareboard and to accept bids on the site as well
As the platform becomes more and more useful to collectors, it is also becoming more and more popular. We have integrations with 18 different marketplaces and listings a lot of collections on BNB Chain.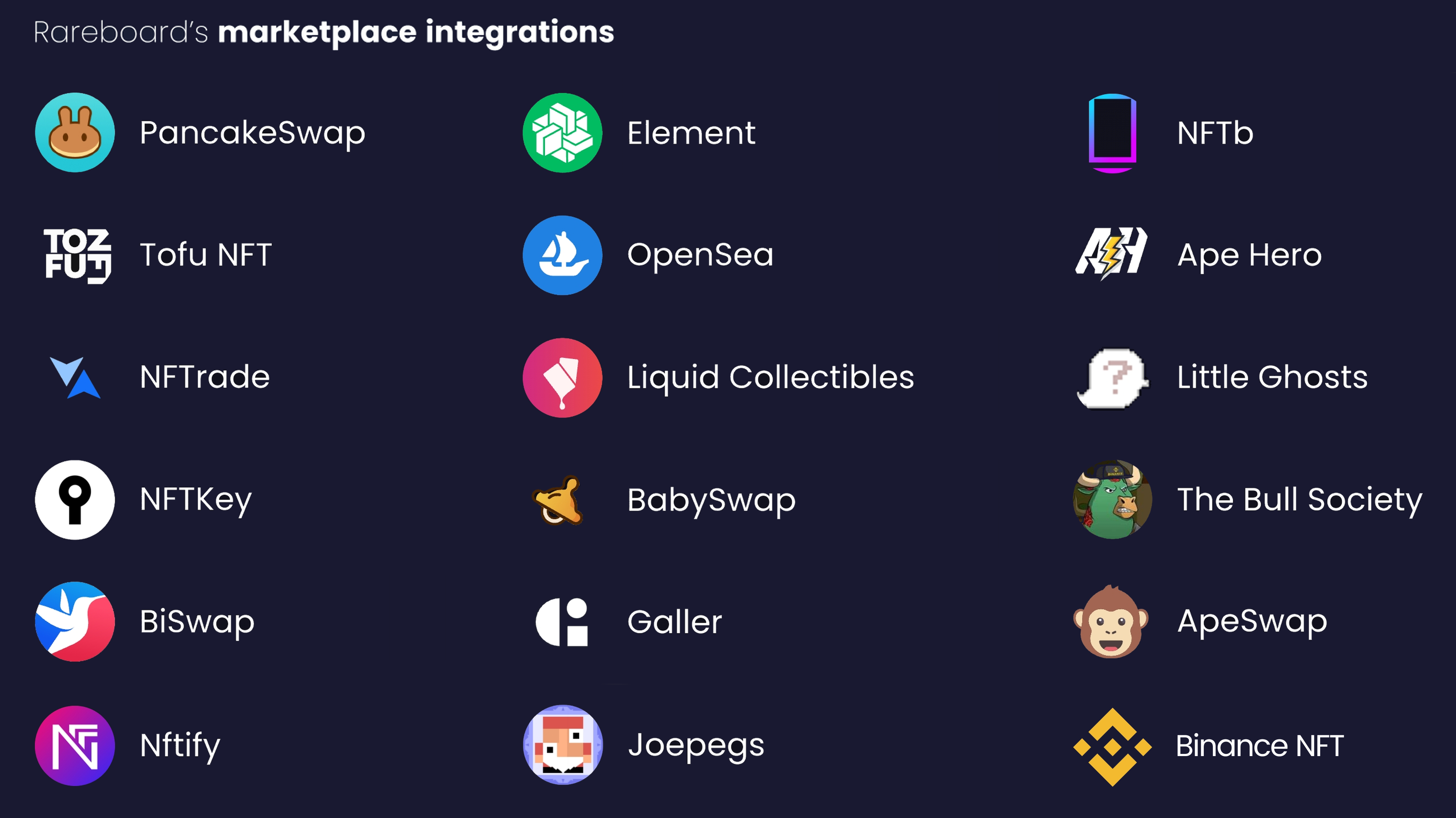 This article explains how your collection could benefit from being listed on Rareboard, and what steps you need to take to have it added.
# Why list on Rareboard?
Rareboard accounted for 10% of the entire trade volume of BNB Chain NFTs from April to May 2022. Some of the largest investors in the space already make their purchases via Rareboard, and since the start of June we have been using some of the Rareboard revenue to buy back PixelSweeper NFTs (opens new window) from the floor and give these as prizes to Rareboard users; this is encouraging more collectors to buy through Rareboard.
It does not cost Rareboard buyers or sellers any extra for sales, list, or bids on our platform, and users can benefit from the rarity data and filters (opens new window) we offer for each collection and then pick from multiple marketplaces to find the right deals for them.
It's also possible to enable in browser notifications to be alerted when new deals pop up, and then execute the trade before other collectors can get there first.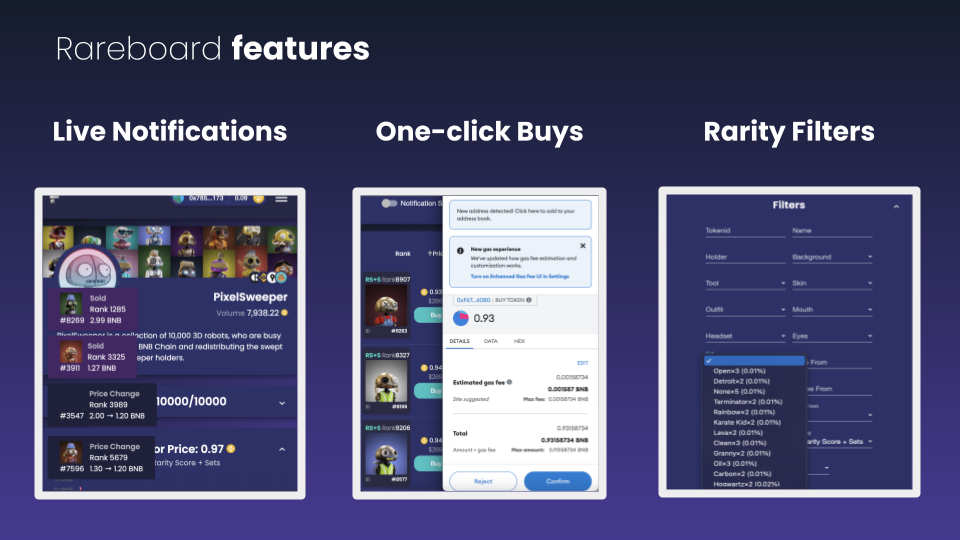 By having your collection on Rareboard you get exposure to the collectors who already use our platform, and you can direct people in your community to use the advanced rarity and notifications features which can encourage more volume for your NFTs.
# How to list on Rareboard
For Rareboard to list your NFT collection it needs to already trade on one of our integrated marketplaces.
Being listed on NFTKey (opens new window), PancakeSwap (opens new window) or Galler (opens new window) is a definite advantage as we have already enabled the Buy functionality for the collections listed on those platforms. However if you are listed on a different marketplace, we would still like to hear from you.
# 1. Get in touch
The first step is to reach out to us via Telegram (opens new window), Discord (opens new window) or Twitter DM (opens new window). Join one of the channels and ask to speak to a Mod, and they will introduce you to the right person in the team.
# 2. Tell us about your collection
We will want to know a little bit about you and your project. We're interested to know if this is your first collection, or if you've had other successful collections in the past. Also if there is utility for the NFTs, unique art or something that makes your project special.
# 3. Lets us know how you measure Rarity
Rareboard has several different methods for ranking NFTs (opens new window), you can learn about the methods here. We allow the users to toggle between the different ranking methods.
However, there might be something specific about your collection that we can cater for. For example some collections have Sets, which are matching traits between individual NFTs and we can add these as an additional way to rank your NFTs.
Typically these traits should already be well defined in your metadata, but if there are specific characteristics that you want to rank that are important to your community and not necessarily in the metadata itself we can still cater for that.
Also, we can label one of the rarity methods as the default for your collection, with a STAR icon, as if one method is particularly popular already with your community it is good practice to let Rareboard users know.
# 4. Fill out the form we will provide you
In the future, we will allow collections to add their NFTs entirely self served. Meaning you will be able to upload your images, logo, description etc directly to our database before we check the details and add it to our platform.
Right now though, we rely on more of a manual process whereby you will need to fill out a form that we will give you once we are in contact.
# What you will need to provide to us for your listing
# 1. Images for the platform listing
# Avatar Logo
An NFT image (preferably one that does not exist in the collection itself).
Here are two examples of what you will want to provide. The Avatar for your collection will be presented as a cropped circle, however you can send us a square image and it will be cropped automatically in the UI.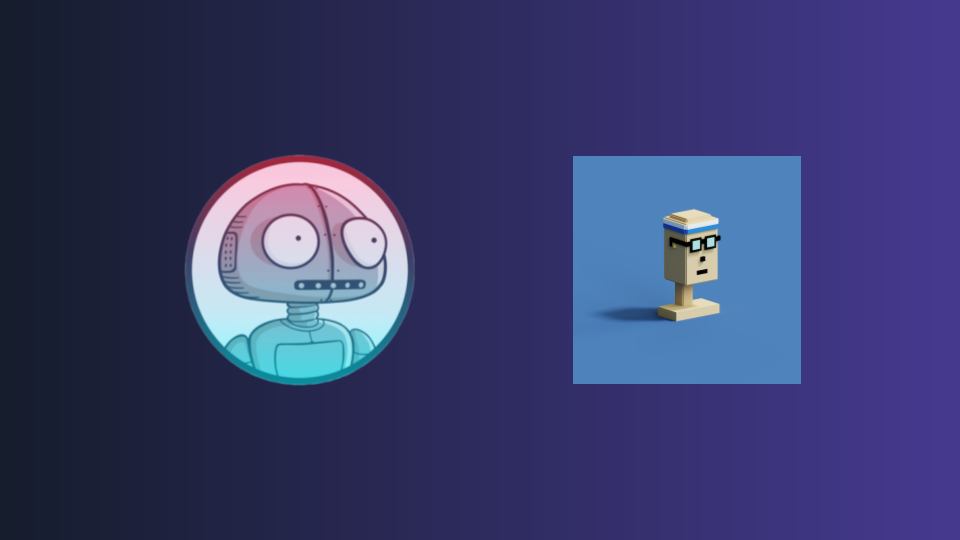 # Listing Banner: 1268x254
As your banner will be clipped from the left and right in a 1 to 3 ratio, for mobile, it is important that if you want to include text that you keep the text centered. As is shown in the Tiger Warriors example below.


# 2. Images for the listing announcements
We will announce your listing on the Rareboard Twitter account (opens new window), as well as in our Telegram (opens new window) and Discord (opens new window) channels. In order to present your collection in the best light we need the following images:
# Transparent background logo
This should be a version of your logo that will work well on the dark background of our announcement graphics.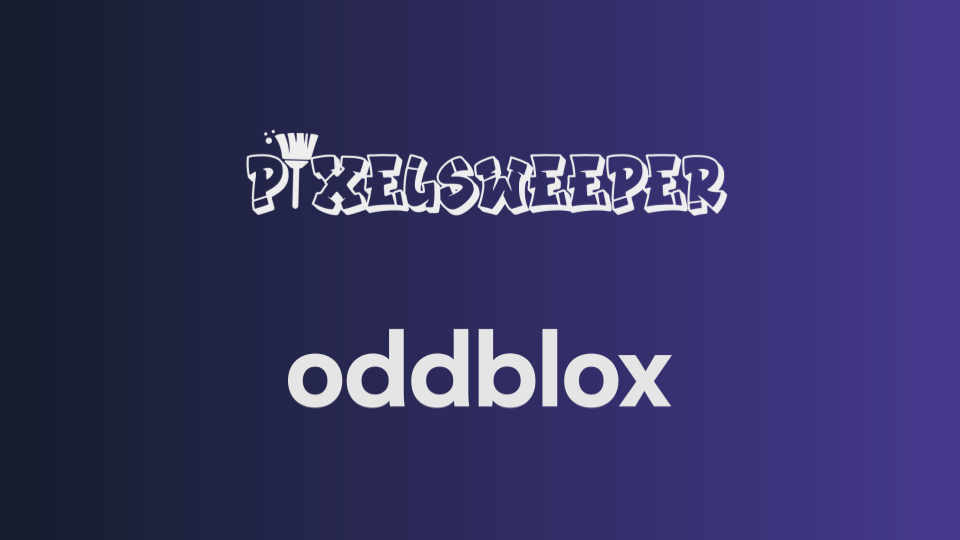 # Grid Collage of your NFTs: 1600x900
We will include an image in your announcement article that shows off multiple NFTs from your collection.
You can present your NFTs in any style that you like. The only important point is that the image ratio is 1600px by 900px, and that our readers can see several of your NFTs all in one image.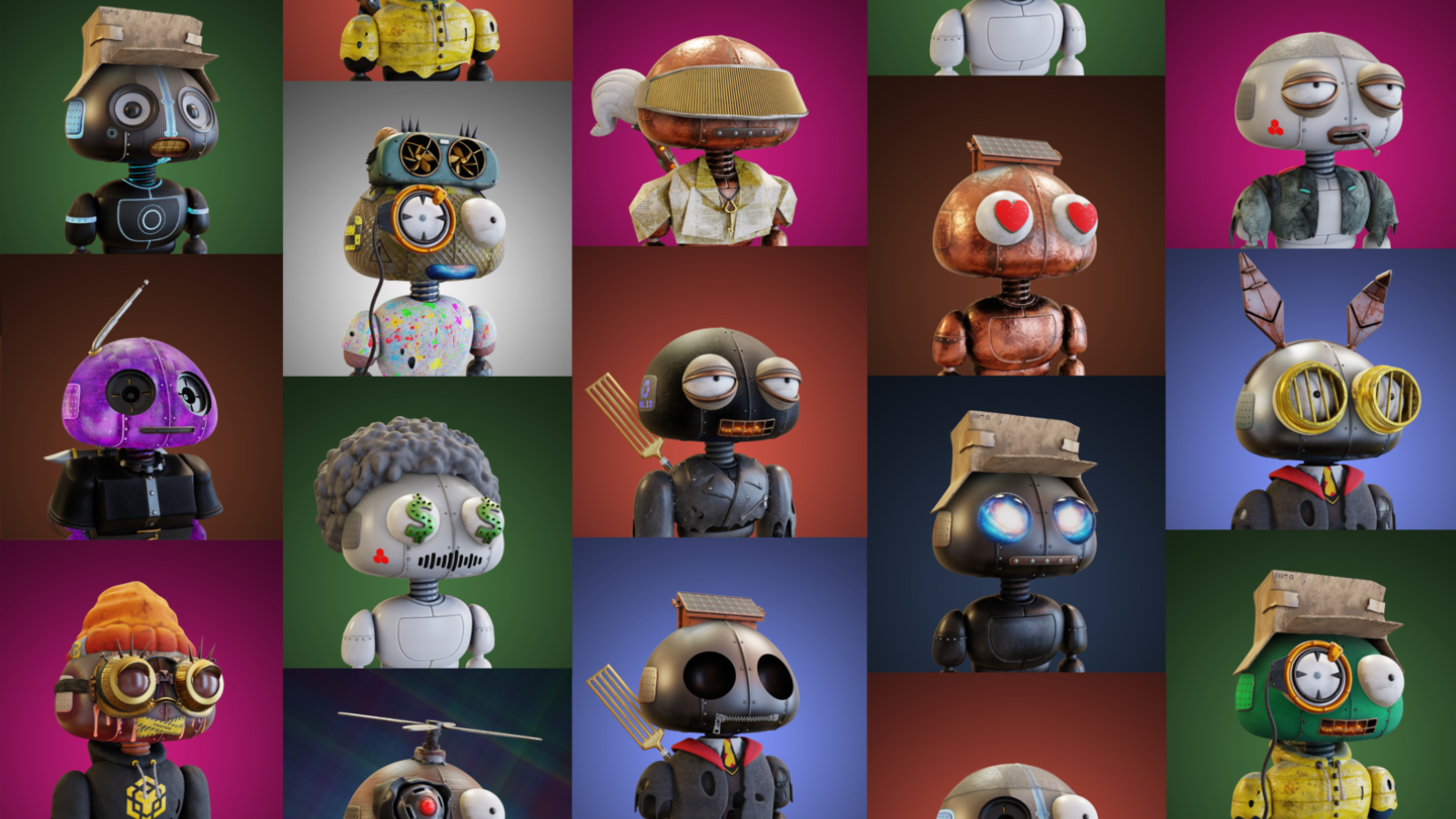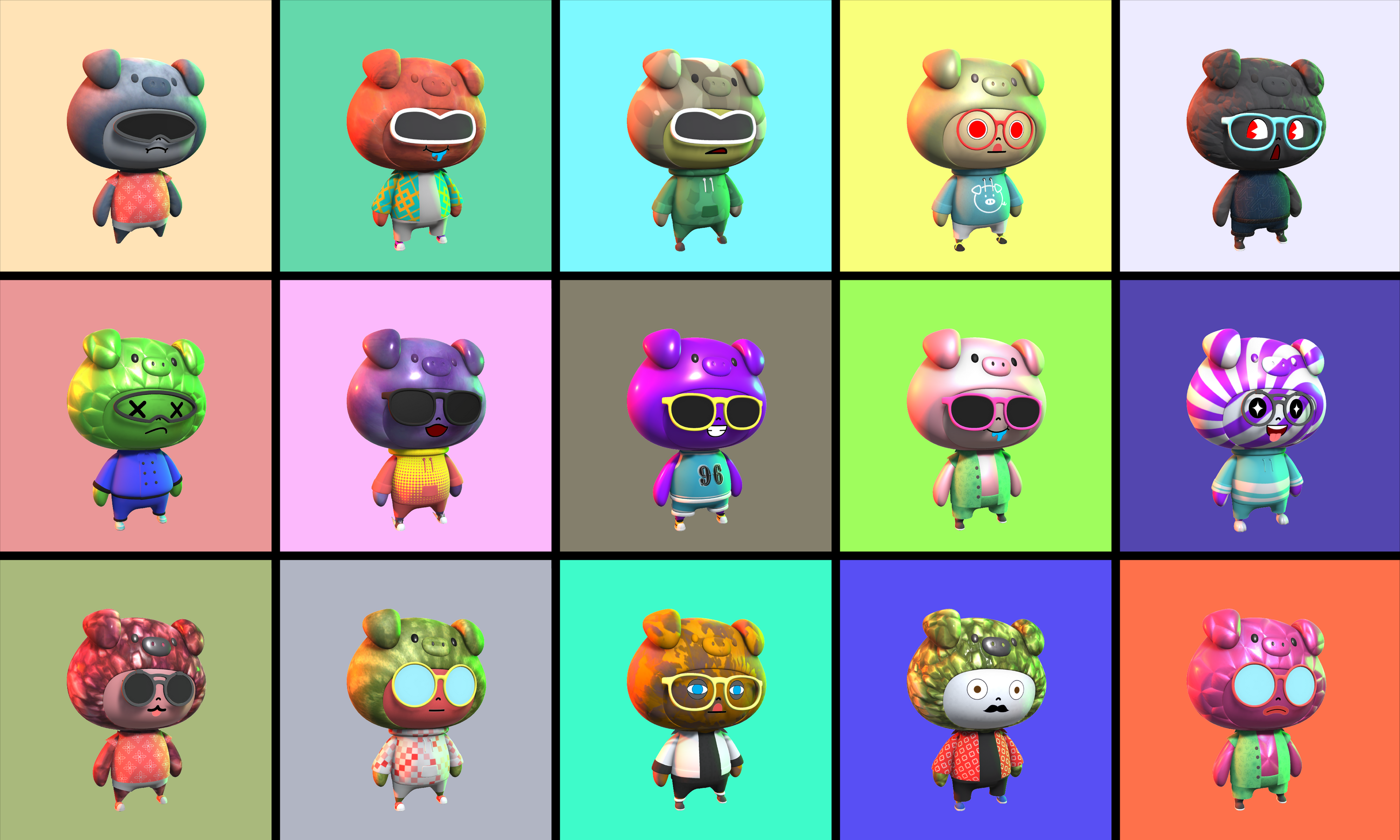 # 3. Basic Information
On our form you will be asked to provide the following basic information about your collection:
Collection Name
Collection Description
Mint Date
Mint Price(s)
Number of NFTs in the collection
TokenAddress (Your NFT Contract)
Is your collection already fully minted?
Which marketplaces is the collection listed on so far?
Any special requirements or ideas for ranking?
# 4. Useful Links
As well as the following links to include in the article:
Collection Website URL
Twitter
Telegram
Discord (if you have it)
# 5. Announcement Article Text
Finally to help us announce your collection to the Rareboard community you will be asked to answer the following questions for an article to go on our NFT Insights blog (opens new window). It's best if you write these in the third person, so that we can present this in the voice of Rareboard, rather than in the voice of you as the founders.
You can see a full example of answers from PixelSweeper, in this article (opens new window).
# Collection Inspiration
A few sentences to describe what inspired your collection
# Collection Utility
A few sentences to describe the utility of your collection
# Collection Rarity and Ranking
A few sentences to describe how rarity impacts your collection, and what ranking methods your community tends to prefer
# Why BNB Chain?
Let us know why you chose to put your Collection on BNB Chain
# How else will Rareboard support you?
Rareboard is, above all else, a community driven platform. By being added to Rareboard your collection is going to be seen by our active community of traders and collectors.
We can help you reach the most people in the following ways:
We can run social contests to giveaway a few NFTs from your collection for following simple social media tasks like following your twitter or joining your Telegram
We can introduce you to our Telegram and Discord Bot partner who can build a bot for you that tracks sales, listings and offers etc. for your collection.
In the future we may be able to include your collection in our "Trading Competitions" where Rareboard users will compete to climb the Rareboard Leaderboard in exchange for winning NFTs.
We're also happy to introduce the best collections to our marketplace partners and help you get listed on more platforms.
# Happy Listing
We hope you found this article helpful. It should make you more prepared when you approach us to get your collection listed on Rareboard. We're always ready to answer your questions and help you grow the number of holders of your NFTs.
Please get in touch via our channels so that we can get you added to our site. When you come to list your collection you will be presented with a simple form to capture all of the information described in this article.
Rareboard is also able to support the mint of your collection, we'll publish an article with the process for Mint on Rareboard shortly, and if you want to include Rareboard in your launch then please also get in touch.