# Introducing: Binions
The Binions (Collection 1 of 4 of GooodFellas MintPass (opens new window)) are a mixed tribe of adorably creepy monsters, indigenous to BNB Chain. After centuries of war, the Binion tribes have united as one, combining their forces to protect their native BNB Chain land from evil forces wishing them harm.
Binions are calling for every able bodied Binion to unite, one army under CZ!
# Mint Binions on Rareboard
4000 Binions are available for the mint.
The mint will start:
1% of the volume of all mints on Rareboard will be used by Rareboard to sweep the PixelSweeper floor.
PixelSweeper (opens new window) is a collection of 10,000 robots, that were created by Rareboard, who are busy sweeping the floor on BNBChain and redistributing the swept NFTs back to PixelSweeper holders.
# Binions Inspiration
Gooodfellas (opens new window) is a team of three NFT artists working together to bring high quality NFTs to BNB Chain. Coming from the success following Pixelsweepers (opens new window) Ram, Illusionist and Vache want to make BNBChain their home and leave their stamp by creating 4 unique collections.

We were looking for a new character, which is not human or animal or creature that exists. We were looking for an attractive character.

Binions have their own charm while being simple. I would have loved to have a lovable giant. A strange creature. I wanted it to be simple, everyone can relate to it. One of the reasons it is square or egg shaped.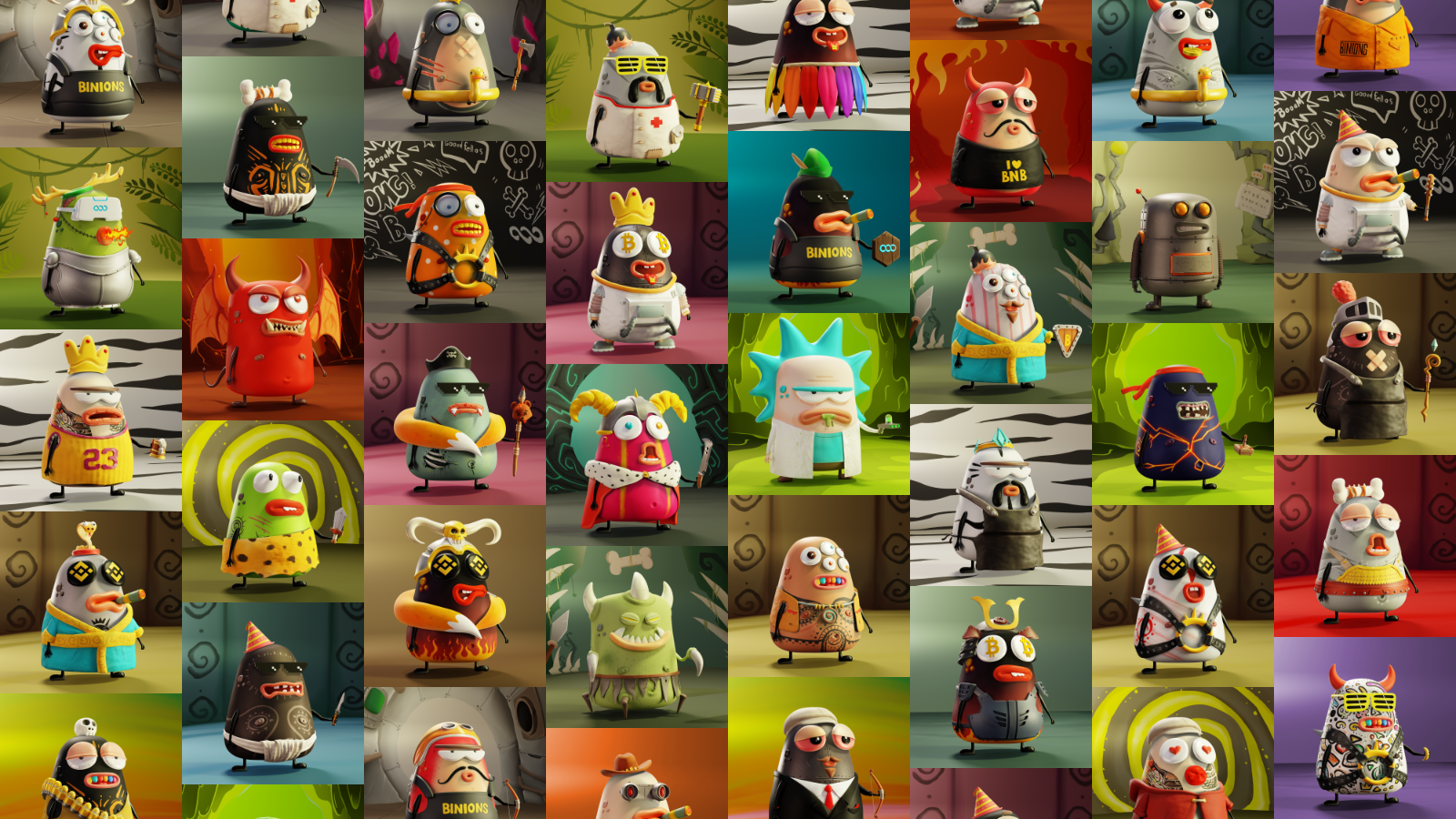 # Collection Utility
Value received from holding the mint pass (which if nothing else was done, could end up being massive depending on how the floor does from each collection).
A % of each mint reserved to snipe sweepers

(opens new window)

, with that % increasing 5% with each collection. Those will be used to enter all 3 weekly sweeper drawings, and any prizes won, distributed to holders. Those sweepers are then distributed to our holders during the minting of each collection.
# Rarity and Ranking
Rarity does not play a direct role in the Binions collection. The rarity preferred will be RS and is determined by the traits.
# Why Build on BNB Chain?
BNBChain provides a fair and level playing field for all types of investors with the low gas fees, easily accessible platforms along with the strongest and friendliest communities
Also, Binions is a Gooodfellas (opens new window) project, launched on BNBChain.
# Useful Links
# Website
gooodfellasnft.com/binions (opens new window)
# Twitter
# Telegram